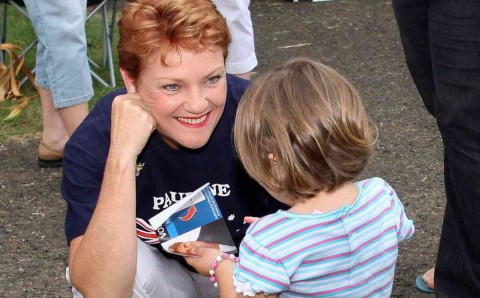 Incoming Queensland Senator Pauline Hanson says parents should think twice before vaccinating their children.
The One Nation leader says public vaccination programs may be to blame for the rising rates of autism and cancer and says the government has failed to screen immigrants posing a threat to public health.
Proponents of the anti-vaccination theories who share unscientific misinformation about the safety of vaccinations online and have long spruiked the discredited link between vaccination and autism.
The theory stems from the publication of paper in 1998 since retracted and it's author discredited.
A host of scientific studies since has failed to find any evidence of a link between vaccination and autism.
In Australia, the anti-vax movement as it is known is represented by The Australian Vaccination-Skeptics Network who compared routine vaccinations to sexual assault, running advertisement likening them to forced penetration.
Despite there being absolutely no scientific evidence to support the theory Ms Hanson says people should think twice before immunising their children
'I have many people who have brought it to my attention, that's why their kids are autistic,' she told the Daily Mail.
Ms Hanson has taken issue with the government's 'no-jab-no-pay' legislation that curtails welfare payments for families who refuse vaccinations.
The One Nation leader says the government should be more focused on screening immigrants accusing them of failing the people in 'protecting us against diseases and not doing adequate health checks.'
'There were people coming in from 2006 when Tony Abbott was Health Minister and only 37 per cent were actually checked, and it was found a lot of them were carrying diseases.'
'It's hypocritical and the migrants apply who come here, why are they just coming through the country and the government failed to do anything about those mainly from Africa.'
The Australian Medical Association says immunisation is crucial to fighting serious, life-threatening diseases, and declining vaccinations rates are a threat to public health.